introducing
GeoSpray

by EnviroStraw

Stop erosion caused by water, rain or wind with GeoSpray – an alternative to geotextile products created by EnviroStraw.

Unlike other erosion-control solutions, GeoSpray is applied in minutes – not hours. It dries quickly and can withstand moderate rain events in as little as 4 hours after application.

Developed by Australia's leading soil scientists, GeoSpray is proven to perform well on all substrates, including compacted clay, rock, sandy loam and dispersive soils.
Download The GeoSpray Brochure
Take a closer look at GeoSpray
and its commercial applications in
our brochure.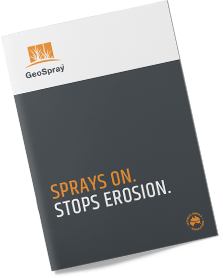 Developed in Australia for Global Conditions